Economic Club of Memphis Breakfast featuring Tom Bowen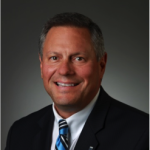 Director of Athletics, University of Memphis
Tuesday, October 27, 2015
Registration at 7am
Hilton Memphis
939 Ridge Lake Blvd., Memphis, TN 38119
Tom Bowen took over as the University of Memphis Director of Athletics in June of 2012, and in his short time leading the department, has the Tigers roaring into a new and exciting era. Bowen began his tenure with an athletics program poised to make a league move from Conference USA to the Big East. Despite the conference realignment carousel continuing to rotate nearly halfway into his first year, Bowen's steady leadership helped Memphis become a charter member of The American Athletic Conference and played an integral role in the formation of the conference, which began its inaugural year July 1, 2013.
In November of 2012, Bowen secured a multi-million dollar gift from the Helen and Jabie Hardin Charitable Trust to support women's athletics. In December of 2013, he announced that alumni Bill and Nancy Laurie had made a gift of $10 million to the capital campaign for athletic facilities. This is the single largest philanthropic gift in the history of the athletic department, and the second-largest gift in the history of the University of Memphis. The athletic department leadership then reached a significant benchmark in a capital campaign goal of $40 million.
Bowen serves on the College Football Playoff organization's Athletic Directors Advisory Council and was voted to represent the American Athletic Conference on the NCAA Division I Leadership Council which serves as an advisory body to the NCAA Division I Board of Directors.
In addition to the Tiger's success in the competition arena, Memphis athletics also had four programs receive NCAA Public Recognition Awards for their exceptional Academic Progress Rate (APR) during the 2012-13 academic year. All 19 Memphis athletics programs had APRs of 940 or higher in 2014, and the Tigers' department-wide, four-year average (2009-10 through 2012-13) was 979.
Prior to taking his current post, Bowen served as the athletics director at San Jose State University from 2004-12. Bowen joined the staff at San Jose State after serving three years as the Director of Community Affairs and the executive director of the 49ers Foundation for the San Francisco 49ers of the National Football League. His Division I experience at the collegiate level includes athletics administration positions at the University of California and Saint Mary's College in Moraga, Calif.
The 1983 graduate of the University of Notre Dame majored in theology/sociology and spent time studying for the priesthood with the Holy Cross Fathers. Bowen went on to earn a master's degree in administration/education from the University of San Francisco in 1990.