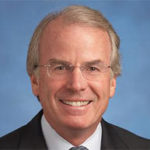 Co-Chief Executive Officer and Co-Head of Investment Management at Goldman Sachs Asset Management, L.P.
January 31, 2017, 6 pm
Holiday Inn – University of Memphis
3700 Central Avenue, Memphis, TN 38111
Timothy O'Neil is Global Co-Head of the Investment Management Division and serves on the Management Committee. He joined Goldman Sachs in 1985 and became a Partner in 1990. Mr. O'Neill serves as a member of the Board of Directors of the National Museum of American History and Chairman of the Development Committee; member of the Board of Directors of Georgetown University and Chairman of the Committee on Medical Center Affairs; member of the Board of Overseers of the Weill Cornell Medical College and Graduate School of Medical Sciences and Chairman of the Business Finance Committee; and member of the Board of Directors of Global Atlantic Financial Group and Chairman of the Compensation Committee. Presented in partnership with the CFA Society of Memphis.