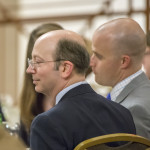 President, Mudd Management and
former FBI Senior Intelligence Advisor
February 18, 2016, 6pm,
Holiday Inn-University of Memphis
Philip Mudd joined the Central Intelligence Agency in 1985 as an analyst and began a policy assignment at the White House in early 2001 to serve as the Director for Gulf Affairs on the White House National Security Council. After the September 11 attacks he helped piece together a new government for Afghanistan and returned to CIA in early 2002 to become second-in-charge of counterterrorism analysis. At the establishment of the Federal Bureau of Investigation's National Security Branch in 2005, FBI Director Mueller appointed Mudd to serve as the Branch's first-ever deputy director. He later became the FBI's Senior Intelligence Adviser. Mr. Mudd resigned from government service in March 2010. He is the recipient of numerous CIA awards and commendations, including the Director's Award; the George H.W. Bush Award for excellence in counterterrorism; the CIA's Distinguished Intelligence Medal and the Distinguished Career Intelligence Medal; the first-ever William Langer Award for excellence in analysis; and numerous Exceptional Performance awards. Mudd has commented about terrorism in open and closed Congressional testimony, and he has been featured by ABC, NBC, CBS, CNN, Fox, BBC, MSNBC, al-Jazeera, NPR, the New York Times, and the Washington Post. Mudd is currently the President of Mudd Management, a company specializing in security consulting; analytic training; and public speaking about security issues. He is a senior fellow at the New America Foundation and The George Washington University's Homeland Security Policy Institute. He now serves as Senior Global Adviser to Oxford Analytica, a British-based firm specializing in advising multinational companies. He sits on the advisory board for the National Counterterrorism Center and for the Director of National Intelligence, and he serves on the Aspen Institute's Homeland Security Group.