Founder and CEO, Farr, Miller & Washington, LLC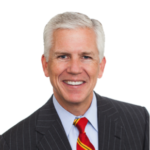 Thursday, September 29, 2016
Reception 6PM – Dinner Seating 7PM
Racquet Club of Memphis
5111 Sanderlin Avenue, Memphis, TN 38111
"Escape Velocity Remains Elusive"
RSVP Deadline: Monday, September 26, 2016
The Economic Club of Memphis is pleased to present a dinner featuring speaker Michael Farr on Thursday, September 29, 2016, at the Racquet Club of Memphis. A reception will begin at 6 pm with dinner seating at 7 pm. Michael's topic will be "Escape Velocity Remains Elusive."
Michael K. Farr is CEO and founder of Farr, Miller & Washington, LLC. He is the Chairman of the Investment Committee and is responsible for overseeing the day to day activities of the firm. Prior to starting Farr, Miller & Washington, he was a Principal with Alex, Brown & Sons.
Mr. Farr is a paid Contributor for CNBC television and has appeared on The Today Show, Good Morning America, NBC's Nightly News, CNN, BloombergTV, Reuters, and the Nightly Business Report. Mr. Farr is heard on Associated Press Radio, CBS Radio and National Public Radio. And he has been quoted in the Wall Street Journal, Forbes, Fortune, The Washington Post, Businessweek, USA Today, and many other publications. His market blogs can be found on CNBC.com, HuffingtonPost.com and Politico.com. He is a member of the Economic Club of Washington, DC, National Association for Business Economics, The World Presidents' Organization, International Atlantic Economic Society, and The Washington Association of Money Managers. He is the author of A Million Is Not Enough, published by Hachette Book Group USA in 2008, and The Arrogance Cycle, released in September 2011 by Globe Pequot Press. His third book, Restoring Our American Dream: The Best Investment, was released in March of 2013 by Headline Books Inc. and received a Finalist Award from the Next Generation Indie Book Awards in the Current Events/Social Change category.
Mr. Farr is founding Chairman of the Sibley Memorial Hospital Foundation and a Trustee of Sibley Memorial Hospital and of Sewanee, The University of the South. He is a Director of Goal Financial, LLC and Atlas Financial Services Group, Ltd. He formerly served as Vice Chairman of the Salvation Army, Chairman of the Travelers Aid Society, and a Trustee of Ford's Theatre; Nation's Capital Progress Foundation; the Paul Berry Academic Scholarship Foundation; and Neediest Kids.