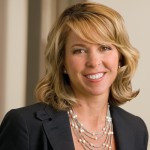 Liz Ann Sonders, Senior Vice President, Chief Investment Strategist, Charles Schwab & Co. Inc.
Thursday, October 16, 2014, Memphis Marriott, 12:30 pm
"Economic and Market Outlook"
Sonders responsibilities as Senior Vice President at Charles Schwab & Co. reach from market and economic analysis to investor education. She analyzes and interprets the economy and markets on behalf of Schwab's entire client base and chairs Schwab's Investment Strategy Council. She is a regular contributor to Schwab publications and is a frequent keynote speaker.
Prior to joining Schwab in 2002, Liz Ann was a Managing Director at U.S. Trust (a division of Schwab). She is a regular guest and guest host on many CNBC programs, as well as on Fox Business News, Nightly Business Report, Bloomberg TV & Radio, CNN, ABC's Good Morning America, CBS This Morning, and PBS NewsHour. She was a regular panelist and guest host on PBS's Wall $treet Week with Louis Rukeyser.
Since joining Schwab, Liz Ann has been named one of SmartMoney's "Power 30;" the best strategist of the year by Kiplinger's; one of the "25 Most Powerful Women in Finance" by American Banker/USBanker; and one of the "50 Top Women in Wealth" by Wealth Manager/AdvisorOne. In 2005, Liz Ann was appointed to and served on the President's Advisory Panel on Federal Tax Reform, President Bush's bi-partisan tax reform commission.