Author and Former Senior Financial Advisor Federal Reserve Bank of Dallas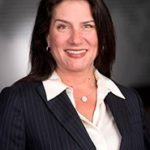 Thursday, October 13, 2016, 11:30 am
Hilton Memphis
939 Ridge Lake Blvd., Memphis, TN 38119
"The Great Abdication"
RSVP Deadline: Monday, October 10, 2016
The Economic Club of Memphis is pleased to present a lunch meeting featuring speaker Danielle DiMartino Booth on Thursday, October 13, 2016, 11:30 am, at the Hilton Memphis. Danielle's topic will be "The Great Abdication."
On-line reservations can be made at: http://econclubmemphis.com/
Danielle DiMartino Booth makes bold predictions based on meticulous research and her years of experience in central banking and on Wall Street. Known for sounding an early warning about the housing bubble in the 2000s, Danielle offers a unique perspective to audiences seeking expertise in the financial markets, the economy, and the intersection of central banking and politics.
From Wall Street to respected columnist to Fed Advisor, Danielle spent nine years as a Senior Financial Analyst with the Federal Reserve of Dallas and served as an Advisor on monetary policy to Dallas Federal Reserve President Richard W. Fisher until his retirement. Fisher called on Danielle to serve at the Fed after becoming a loyal reader of her financial column in the Dallas Morning News. She began her career in New York at Credit Suisse and Donaldson, Lufkin & Jenrette where she worked in the fixed income, public equity and private equity markets. Danielle earned her BBA as a College of Business Scholar at the University of Texas at San Antonio. She holds an MBA in Finance and International Business from the University of Texas at Austin and an MS in Journalism from Columbia University.
Called "The Dallas Fed's Resident Soothsayer" by D Magazine, Danielle is a well-known speaker who can tailor her message to a myriad of audiences, once spending a week crossing the ocean to present to groups as diverse as the Portfolio Management Institute in Newport Beach, the Global Interdependence Center in London and the Four States Forestry Association in Texarkana. Her success is based on her ability to translate the arcane language of Wall Street thinkers and Fed insiders to the man on the street. Danielle is regularly featured on CNBC and Bloomberg.
Danielle's book, Fed Up: An Insider's Take on Why the Federal Reserve is Bad for America, is due in February 2017. It is available at Amazon for preorder.