Founder and President, Center for Neighborhood Enterprise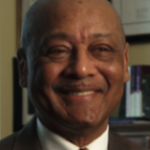 Thursday, December 10, 2015
Holiday Inn-University of Memphis
Reception 6PM, Dinner Seating 7PM
3700 Central Avenue, Memphis, TN 38111
The Triumphs of Joseph: How Today's Community
Healers Are Reviving Our Streets and Neighborhoods
Robert L. Woodson, Sr. is Founder and President of the Center for Neighborhood Enterprise. Often referred to as the "godfather" of the movement to empower neighborhood-based organizations, Bob Woodson's social activism dates back to the 1960s, when as a young civil rights activist, he developed and coordinated national and local community development programs. During the 1970's he directed the National Urban League's Administration of Justice division. Later he served as a Resident Fellow at the American Enterprise Institute. For more than four decades, he has promoted the principles of self-help and neighborhood empowerment and the importance of the institutions of civil society.
Dedicating his life to helping low-income people address the problems of their communities, in 1981 Woodson founded the Center for Neighborhood Enterprise (known then as the National Center for Neighborhood Enterprise) for the purpose of strengthening and advocating for those neighborhood-based organizations struggling to serve their communities. The Center has provided training and capacity-building technical assistance to more than 2,600 leaders of community-based groups in 39 states. He was instrumental in paving the way for resident management and ownership of public housing, and brought together task forces of grassroots groups to advise the 104th Congress on welfare reform. The youth violence reduction program he created, called the Violence-Free Zone, is effectively reducing violence in many of the nation's most troubled schools.
He has profoundly influenced the way people think about the strengths of low-income people. But more than just philosophy, he has promoted measurable results and living examples that provide proof of his principles in reclaimed lives and restored communities.
Woodson is the only person ever to have received both the liberal and conservative world's most prestigious awards – the John D. and Catherine T. MacArthur "Genius" Fellowship and the Lynde and Harry Bradley Foundation Prize, as well as the Presidential Citizens Medal. Among numerous other awards, Woodson also holds an honorary doctorate from Colorado Christian University and the University of Cincinnati.
He is the author of Youth Crime and Urban Policy, A View From the Inner City (1981), On the Road to Economic Freedom: An Agenda for Black Progress (1987), A Summons to Life, Mediating Structures and the Prevention of Youth Crime (1988), and The Triumphs of Joseph: How Today's Community Healers are Reviving Our Streets and Neighborhoods (1998, reissued in paperback in 2008). He has also appeared on major network television talk shows including: Meet the Press, Nightline, and the Oprah Winfrey Show.